Posted by Iola Feliciano in Home and Garden
on Nov 8th, 2017 | 0 comments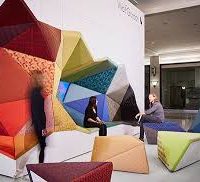 If you're considering painting a child's bedroom, play area or other commonly-used kid-friendly space, you know the concerns that go into choosing the best paint. Will I be able to wash it? What happens if my child marks on the wall in pencil, crayon or ink? With Clear Erase sealing top coat, you won't have to spend one more day worrying about any of that.
What is Clear Erase?
Clear Erase is a nontoxic, clear sealant and top coat for traditional interior paints. It can be applied easily to any interior surface, and after curing, transforms your wall into a seamless dry erase board. It can also be applied to wooden cabinetry, wallcoverings, appliances and more, turning almost any flat surface inside your home into an area where doodles and drawings can decorate you space. What's more, Clear Erase is available both in-store and online at a variety of retailers.
Clear Advantages
If you don't have a child who enjoys drawing – or you simply don't want your little artist bedazzling your pristine walls – there are many other reasons to choose Clear Erase. Just as dry erase marker can be easily removed from its finished surface, so can most other inks, crayon wax and pencil markings. Easily washable and incredibly durable, this top coat is one that will last your family for years.
More interested in look than in functionality? Clear Erase has you covered there, too. An environmentally-friendly and crystal-clear top coat that seals in your chosen color of paint, there's almost no design or detail that can't be preserved with Clear Erase. Should children, pets or even guests bring dirt or damage to your walls, it's easily fixed with a simple scrub.
There's no limit to what you can do with Clear Erase. Create functional dry erase boards of various, unusual shapes and size, or add sophisticated style to your older child's bedroom. Suitable for all areas and industries, this top coat is the do-it-all savior for anyone who has ever had to clean a wall. Choose whatever color you'd like for your next kid-friendly paint job. Then, choose Clear Erase!
Add to favorites