Posted by Iola Feliciano in Aluminium
on Feb 1st, 2017 | 0 comments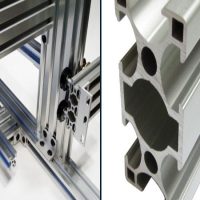 Most people hearing the words T slot, particularly carpenters and machinists or welders will immediately think of t-track tables. These use inset T channel to create jigs along the table for quick and accurate positioning of both tools as well as workpieces.
With these systems, a variety of different t channel hardware is used. There are options in hardware that include clamps, specialized studs that will fit into standard tracks as well as bolt assemblies and inserts for use in the tubes and tracks.
There are many other uses for T slot as well. This material can be used in a variety of settings and, since it is aluminum, it is very durable, strong and resistant to corrosion and most types of materials that stain. This makes it a good choice for both industrial as well as commercial applications.
Carts and Portable or Stationary Workstations
The extruded types of T-channel that forms a four-sided extrusion rather than just the track is a great option for making work tables and carts. It is very strong but also lightweight so it can be easily moved on castors.
These types of carts or portable workstations can be found in any type of industry. They are popular in hospital settings because of the ability for full washdown and sterilization of the table or cart without having to worry about corrosion, rust or the presence of mold or mildew after the process.
Furniture and Fixtures
Shelving systems, larger or small racks, displays or even furniture items such as stands or tables can easily be made from T slot systems . Since the system allows for movement along the tracks, it is possible to change configurations of shelves or storage areas very quickly and without the need to drill or weld the pieces in place.
The more you get to work with t-slot systems, the more you will find practical uses for this versatile construction material. With a full range of hardware including hinges and brackets for the system, your creativity is the only limit.
Add to favorites