Posted by Iola Feliciano in Business
on May 26th, 2016 | 0 comments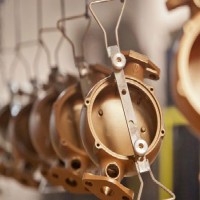 Powder coating is a finishing process termed "dry." It employs finely ground particles of two materials: pigment and resin. Polyester powder coating, like epoxies and acrylics, is a thermoset coating. Polyester thermoset powder coatings find favor by many industries as a protection mechanism for components that will have to endure the elements of what may be a harsh exterior environment. Unlike several other powder coatings, this type is more than capable of handling the great outdoors.
Types of Polyester Powder Coatings
Polyester powder coatings come in different types. Among them are
Polyester triglycidyl isocyanurate (TGIC): The most popular
Polyester TGIC-free: More popular in Europe
Polyester/isocyanate: More frequently referred to as Polyurethane coatings
A final category to consider is super-durable polyester resins. As their name indicates, they can withstand harsh conditions than those of standard polyester conditions.
Qualities of Polyester Powder Coatings
Polyester powder coatings are the perfect coating for external usage of components and products. While highly decorative, they are still ideal where the required characteristics are weather resistance and UV stability. Overall, polyester powder coatings are noted for various qualities including
Good color preservation
Gloss retention
Hard surface
Good abrasion resistance
Flexibility
Long-term exterior durability
Chemical resistance
Good impact resistance
Overbake resistance
Available in a wide range of hues and colors
Can request textured effects
Comes in gloss, satin and matt
In fact, finishing companies can customize the coatings to match the user's requirements. This is one reasons why many consider polyester powder coatings to be the most general thermoset powder.
Applications for Polyester Powder Coatings
When it comes to using a polyester powder coating, there is no shortage of companies and industries willing to employ it. Industrial applications are common in certain manufacturing concerns. Common examples of its usage are:
Agricultural Equipment
Air conditioners
Aluminum extrusion
Appliances
Architectural Components Including Steelwork
Automotive Trim
Cladding
Construction Equipment
Electrical Enclosures
Fascia Signs
Fencing And Gates
Lawn And Garden Equipment
Furniture
Motorcycles
Railings
Recreational Equipment
Shop Fitting Systems
Under-hood Automotive
Wheels and Rims
Window Fittings
Polyester powder coatings are employed more frequently to cover metal parts than those of plastic or other materials.
Polyester Powder Coating: A Universal Thermoset Powder
Polyester resins are looked upon as the mainstays of the market. In North America, an estimated 60 plus percent of the powder coating market employs polyester or polyester-based powder coatings. Super polyester resins are increasing their market share in areas where harsh or stressful environmental conditions require improved durability. Overall, for exterior usage, companies can rely on a polyester powder coating to provide them with the kind of qualities they need to protect their components in adverse conditions.
Add to favorites