Posted by Iola Feliciano in Weddings
on Jan 31st, 2019 | 0 comments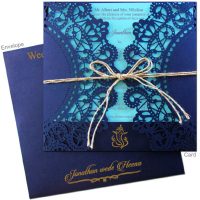 Planning a wedding can be a full-time job. There are so many decisions to make like which Indian marriage cards you should choose or where the best venues are located. To make things go just a touch more smoothly on your big day, we have gathered a few important items that you should keep in mind.
Consider a Wedding Planner
As you know, an Indian wedding is not a one and done kind of deal. It takes place over several days, and there are all the customs to observe and outfits to wear. A wedding planner can be your best friend during all the hullabaloo. If you don't think you need one for the whole run of events, at least consider having one to direct the big day.
Practice Your Angles
You've probably seen all those amazing wedding photos on Instagram where the bride look glamorous and perfect poised. Yeah…that didn't happen by accident. The perfection only comes with practice. Work with your photographer, know your angles, and find the poses that you most want to see in your wedding album.
Discuss Entrances with Your DJ
Indian weddings are all about the entrances and entrances and entrances. You have the wedding party, the reception entrance, bidai, and pheras. You will want to make sure that you have specific songs for each portion. That way everything will fit the overall vibe that you imagined.
Rehearse with the Priest
You don't want any surprises on your big day. To make sure that everything runs smoothly, see if you can snag a little rehearsal with your priest. It is the best way to find out how long the ceremony might run.
Don't Forget to Eat
While you are busy taking pictures, toasting your happiness, and dancing the night away, you need to remember to grab a bite to eat. Without food, you won't have the energy to keep up with all the partying, but also, you paid a fortune for all those plates. You might as well enjoy them!
Finally: Remember to Order Your Indian Wedding Cards at regarlcards.com!
Regal Cards has handcrafted tradition Indian wedding invitations! They combine tradition, creativity, and artistic skill to bring you an Indian wedding card that is anything but boring. With Regal Cards, you will never have to worry about the quality because only the finest handmade papers are used. Giving you an exquisite invitation you will be proud to send to your friends and family.
Add to favorites