Posted by Iola Feliciano in Gymnastics
on Jul 14th, 2016 | 0 comments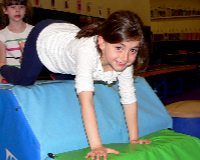 Regular Pre-school programs in Shelton CT are designed to keep children busy, help them begin to socialize, and learn to color. That is fine, and can be fun, but does not interest every child. There are always children who prefer to sit while others play, scribble instead of concentrate on the task of coloring, and do not participate well with their peers. It may be because they are bored, or totally unmotivated. Gymnastics pre-school programs begin as early as twelve months, and continue until the age of six. Children are developing balancing and motor skills, as well as coordination. They work together, make friends, and build up self confidence. They are also learning habits that will build strength and help keep them healthy and active.
The Adventurers program is for children twelve to twenty-four months of age. They participate with parents, and the guidance of trained and certified staff. Activities include music and movement, balancing, tumbling, playing with other kids, trampolines, and circle time. For the two year through three and a half year old kids, Come with Me is a lightly structured class that still has parent participation. Star Gazers is the program for those three and a half to four and a half years of age. This is an independent class where children work on fully developing motor skills, listening, and cooperating. Four and a half to six year old children attend the Start Catchers class. Focus at this stage is gymnastics skills, independence, confidence, as well as controlled motor, movement, and balance skills. There are also open gym sessions for all enrolled children from the ages of two to six years old.
In addition to those four regular pre-school programs in Shelton CT, there are also two advanced classes for children four to six years of age at Next Dimension Gymnastics. Rising Stars is an invitation only class that consists of more advanced instruction for children who excel in regular classes. Participants master basic skills, while instructors teach new skills. Lightnin' Boltz is an advanced class for boys that allows them to burn excess energy, while learning advanced skills. Development of coordination, strength, balance, and flexibility is taught in all six Olympic events. Participants learn skills on the pommel horse, parallel bars, floor, high bar, rings, and the vault. The facility has Olympic quality equipment and also has competitive teams on the National level for older children.
Add to favorites