Posted by Iola Feliciano in Tools & Equipment
on May 2nd, 2017 | 0 comments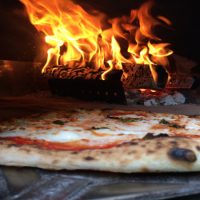 Are you thinking about throwing a party but not sure what to do? Pizza parties are very popular and a lot of fun for everyone. Whether you own wood fired pizza oven or you plan to cook indoors, there are several things you can do to simplify things and make it easier on you and your guests. Here are four helpful tips to get you started.
1. Get the Dough Ready Ahead of Time
How many guests do you expect? To be safe, you should make about one-half of pie for each guest, so if you have ten guests (including yourself), you'll want to bake at least five pies. In fact, it's a good idea to make an extra pie for guests that are unusually hungry. Mix the dough the night before and put in the refrigerator. This gives you time for other things when the party begins.
2. Prepare Your Ingredients
It takes a long time to prepare all the ingredients for your pies. To save time, do all the chopping the day before your party. Place each chopped or sliced ingredient in a separate container, and you'll cut the time it takes to make pizzas.
3. Get Your Oven Ready
Preheat your oven. If you're using a wood fired pizza oven, make sure you have all the wood you need and fire it up an hour before you plan to cook the pies.
4. Have the Right Cooking Tools
Whether you throw a pizza party with many guests or you want to cook pizza, bread, or many other great foods, a wood fired pizza oven is one of the best cooking tools you can have. You'll create a unique pizza that tastes and smells like it came from a brick oven, and your guests will never forget the experience.
Add to favorites