Posted by Iola Feliciano in Medical Supply
on Jul 6th, 2017 | 0 comments
Antimicrobial coatings provide a surface that inhibits the growth of pathogens, which is why these types of coatings are being used throughout the biotech industry. Medical instruments are one of the most common applications for antimicrobial coatings. Antimicrobial coatings can also be used on healthcare facility surfaces, ensuring that critical areas like hospital beds and surfaces remain free from pathogens. Therefore, antimicrobial coatings are increasingly being used not just in healthcare delivery but also in biotech and especially in laboratories. There is no one type of antimicrobial coating, and they can be customized for use in different settings depending on the tool or item that needs to be surfaced and the types of pathogens that are most likely to be encountered. Copper is a common antimicrobial coating, but specific alloys have been developed to address the needs of clients in the biotech and medical industries. Antimicrobial coatings are being used more and more to retrofit older facilities and immediately used in new builds to coat commonly used areas like door knobs and light switches. Similarly, antimicrobial coatings can be used in healthcare facilities to reduce pathogens in targeted environments like food preparation areas. One of the long term and indirect benefits of antimicrobial coatings is their ability to reduce the use of harsh chemical cleaners that would otherwise be relied upon to kill pathogens. Not only does this mean a cleaner, less toxic work environment, but also a higher level of environmental ethics and sustainability in the business. Also, the use of antimicrobial coatings on instruments and work surfaces means less time and money spent on cleaning and disinfectant. While there is still no substitute for traditional hand washing, antimicrobial coatings offer a certain extra layer of protection. Antimicrobial coatings are one of many types of protection against pathogens, and can be used in conjunction with other methods. Be the first to like. Like...
Posted by Iola Feliciano in Medical Supply
on Jan 6th, 2017 | 0 comments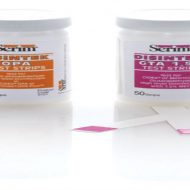 Peroxide is a common disinfectant employed in various ways in the food and laundry industries. It is favored because of its antifungal and bactericidal properties. However, before, during and after executing its disinfecting actions, the levels of peroxide need be within a certain level. A basic and easy test is available to ensure this goal is met. This involves the use of peroxide test strips. Common Industrial Applications of Peroxide As an all-purpose disinfectant, peroxide plays a significant role in reducing and removing bacteria and fungal growth from equipment and in such products as water and, in some countries (although not the United State) milk. The American food industry as well as commercial laundries, hospital laundries and spas employ peroxide as a cleaning agent. The range of peroxide concentration for such industries is often restricted. Peroxide test strips ensure the levels of this chemical substance remain at the desired amount. Besides the food and laundry industries, peroxide finds its use in the cleaning up of various waste material. This includes: Industrial effluents Domestic waste water Aseptic packaging – This type of packaging is in demand by the food, beverage, electronic and medical instrument manufacturers A Method of Testing for Residual Peroxide The presence of peroxide can be noted easily. The tester requires a simple indicator paper and a reader. A fast dip of the test strip into the water or other fluid or effluent will provide the basic material, including the range of peroxide levels and sensitivity. This can be anywhere between 0 and 50 parts per million (ppm). Using Hydrogen Peroxide Test Strips Hydrogen peroxide is a commonly available disinfectant. It is affordable and readily available. Its use in food, beverage and other industries is an accepted practice. The regulation of the amounts of peroxide for industrial processes is also controlled. To prevent inappropriate levels, companies turn to a simple, cost-effective tool – peroxide test strips. Peroxide Test Strips For reliable dry reagent test strip technology, you can trust the professional team working for Serim Research Corporation. They can provide you with reliable, viable and easy to operate technology including everything from an H Priori rapid test to an ultrasonic cleaner test to Peroxide Test Strips and medical device cleaning validation. An innovative company, the expert staff works in partnership with its clients, to produce new solutions or to adopt old ones. To discover more, visit the company online at http://www.serim.com/. Be the first to like. Like...