Posted by Timothy Harvard in Makeup Products
on May 2nd, 2017 | 0 comments
There are so many varieties of makeup out there. This can make it seem overwhelming to anyone who needs makeup for professional reasons or who is just looking for a high-quality makeup to bring out their full potential. When you are searching for makeup to use for photo shoots or TV actors, then your best bet is to go for professional makeup. Characteristics Of Professional Makeup Professional makeup is the latest in makeup innovation, with superior ingredients and techniques going into each formula. This is the type of makeup that you will see being used on television and in movies, as well as on models in advertisements, beauty shoots, and other photography projects. One of the main things that separate professional makeup from regular makeup is that it has been designed for use in front of high definition cameras. Therefore, even with the closest scrutiny by a camera that is designed to provide an extremely clear shot to viewers, the professional makeup looks flawless and completely natural. Here are some benefits of wearing professional makeup: -Feels Light – One of the reasons why many people don't like wearing makeup is that it tends to feel heavy and as if it is caked on. Professional makeup, on the other hand, is meant to feel very light after it has been applied. It will feel comfortable and natural. -Vivid Color And Greater Coverage – Another great thing about professional makeup is that it has deeper and fuller tones. Although it has more vivid coloration, it has a matte finish which is essential in most professional settings, especially when an HD camera is involved. Because the color is so much more vivid, less makeup needs to be applied in order to cover up flaws. Smooth on a light layer of professional makeup for excellent coverage and a natural look and feel. Be the first to like. Like...
Posted by Iola Feliciano in Makeup Products
on Feb 13th, 2017 | 0 comments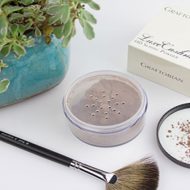 Putting on makeup is something that has developed into a very technical art form. It is used not just by women when they are going to work or a special event, but also by both men and women onstage and when they are going to perform on TV or in films. It is also used by fashion models, as well as many other professional applications. Get just the right effects and finishing touches, with a wide variety of makeup products that you can add to your routine. One of the most popular of these is setting powder. What Is Setting Powder? Setting powder is a fine, silky powder that is applied to the face while the foundation is still wet. After the foundation has been smoothed onto the skin, setting powder is placed onto it. Incorporating setting powder into your makeup routine offers numerous benefits and a completely improved result. The main attraction of setting powder is that it "sets" the foundation. It gives your face a very smooth and soft feel and appearance. The setting powder prevents the foundation from getting cracked, and since it has such a fine texture, you don't have to worry about your face feeling like it is caked with makeup and powder. Setting Powder Varieties Another thing about setting powders is that there are several different varieties. Each type of setting powder has its own individual benefits that help your skin and makeup look more flawless. There is translucent setting powder, which can be used on any skin tone and will not dull the foundation color in any way. Other types of setting powders are designed for different skin tones. Banana Cream Pie colored setting powder is for light skin tones. It eliminates the appearance of red undertones and gives a warmer, more even color overall. Be the first to like. Like...